ELF adds member nations 30 and 31
ELF is pleased to announce that Estonia Lacrosse and Luxembourg Lacrosse have become our 30th and 31st member nations, respectively.
In April of this year, Estonia was unanimously accepted as a member of ELF.
Estonian Lacrosse was initially established in the summer of 2014. Estonian Lacrosse has been recognized by the Athletic Association of Estonia and is listed under their official sports starting from 2014. Estonian Lacrosse has currently had three summer season and we are currently in the middle of our second indoor winter season. In 2016, Estonia Lacrosse played against the St. Petersburg White Knights and in a tournament in Riga, Latvia. ELF sponsored a clinic in Tallinn with Team Poland coach Drew McCaleb. This summer, they ran an ELF-sponsored referee clinic as well as hosting their first tournament, with players from Poland, Latvia, and Russia attending, in addition to the home team.
In July of this year, Luxembourg Lacrosse was accepted as the 31st member of the ELF.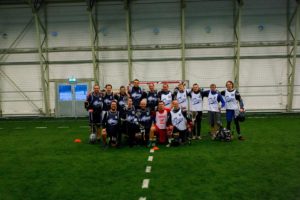 Having been formed a couple of years earlier, Lux Lax has already hosted two skills camps and a tournament, which saw players from Belgium and Germany join the fun. Luxembourg's particular demography offers significant potential from incoming EU and global expats for establishing a global network of supporters and recruiting locally active players.
The size of the country enables the federation to develop effective reach into local administration and have good chances to secure access to the very good local sports infrastructure.
We look forward to great things from Estonia and Luxembourg!